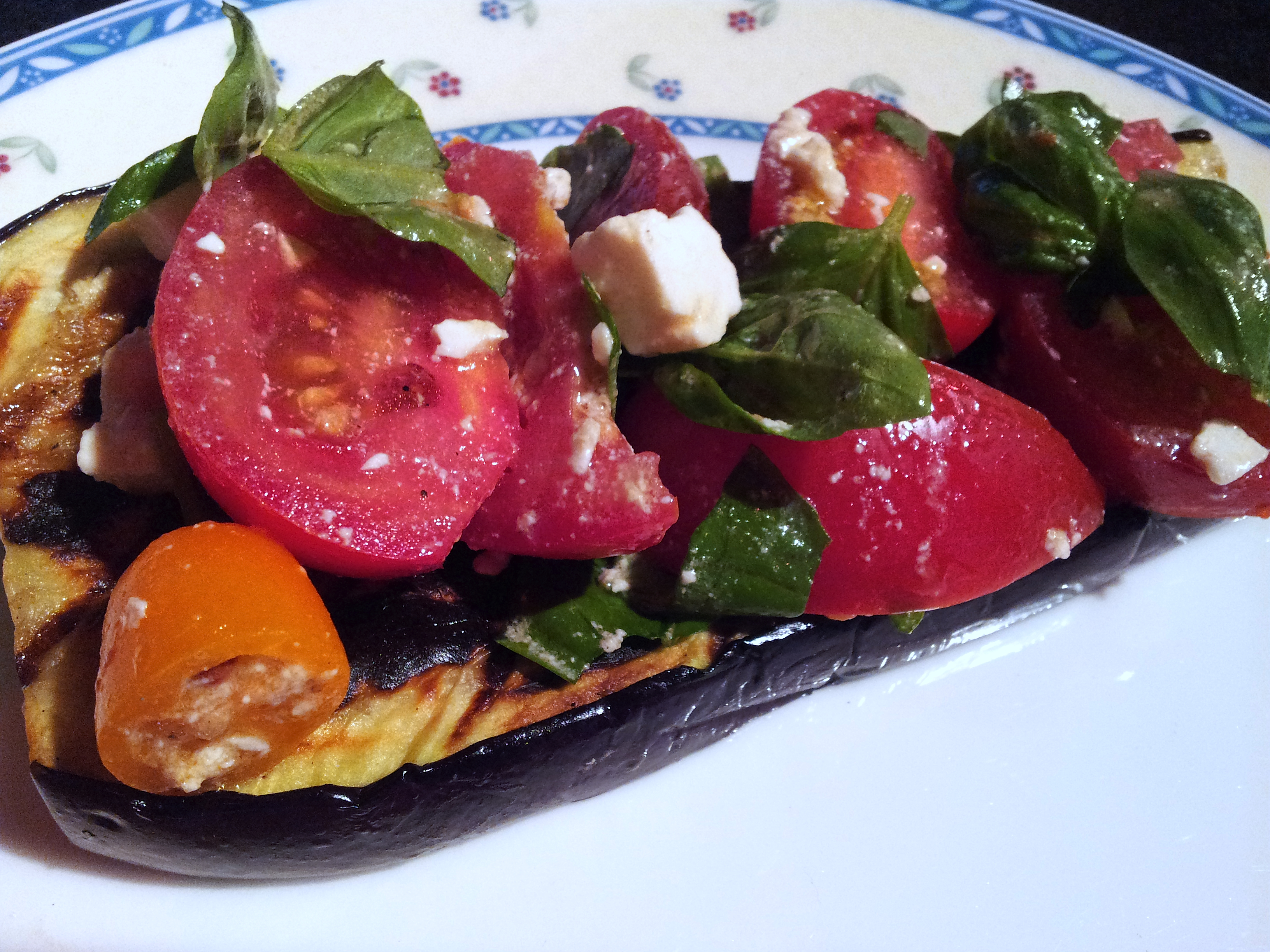 Happy 2014! Many of us probably have eating healthier, or some variation, on our New Year's resolutions list. We are very committed to the cause the first month or two, but things start to change a little towards the third month. Perhaps we just can't quite make that spinning class, or we simply can't bare the thought of eating another cold, boring salad. The reasons are endless. Let's face it – eating healthy is much easier said than done. The trick, however, is to have a variety of easy, healthy and tasty recipes at hand.
That's why this dish is one of my favorites! I first came across this recipe in a Living magazine. It's such a nice mix of flavors that are light enough to serve as an app or side dish, but satisfying enough to serve as a main. Imagine Greek salad meets Caprese salad, all on top of a nice grilled slice of eggplant. It's great to make on the outdoor grill in the summer, or on your stove top grill pan throughout the year. No grill pan? No problem. You can always use the good old frying pan! 
Recipe
Yield: 2 to 4 servings
INGREDIENTS:
1 large eggplant, trimmed, cut lengthwise into 1-inch-thick slices
kosher salt
1 tbsp. extra virgin olive oil, plus more for brushing
2 cups cherry tomatoes, halved, or 4 small tomatoes*, cut into chunks
1/4 cup low-fat feta cheese, crumbled
pinch of red pepper flakes
1/4 cup toasted pine nuts (optional)
1/4 cup packed fresh basil leaves, torn if large
*I love using heirloom tomatoes when available.
DIRECTIONS:
1.  Generously season eggplant slices with salt. Place vertically in a colander, overlapping them. Let stand 30 minutes; rinse and pat dry with paper towel.
2.  Preheat grill to medium high. Liberally brush both sides of eggplant with oil.
3.  Grill, turning once, until tender, about 4 minutes each side.
4.  Meanwhile, mix tomatoes, feta, red pepper flakes, oil and pine nuts. Season with salt and spoon over eggplant. Top with basil and serve.