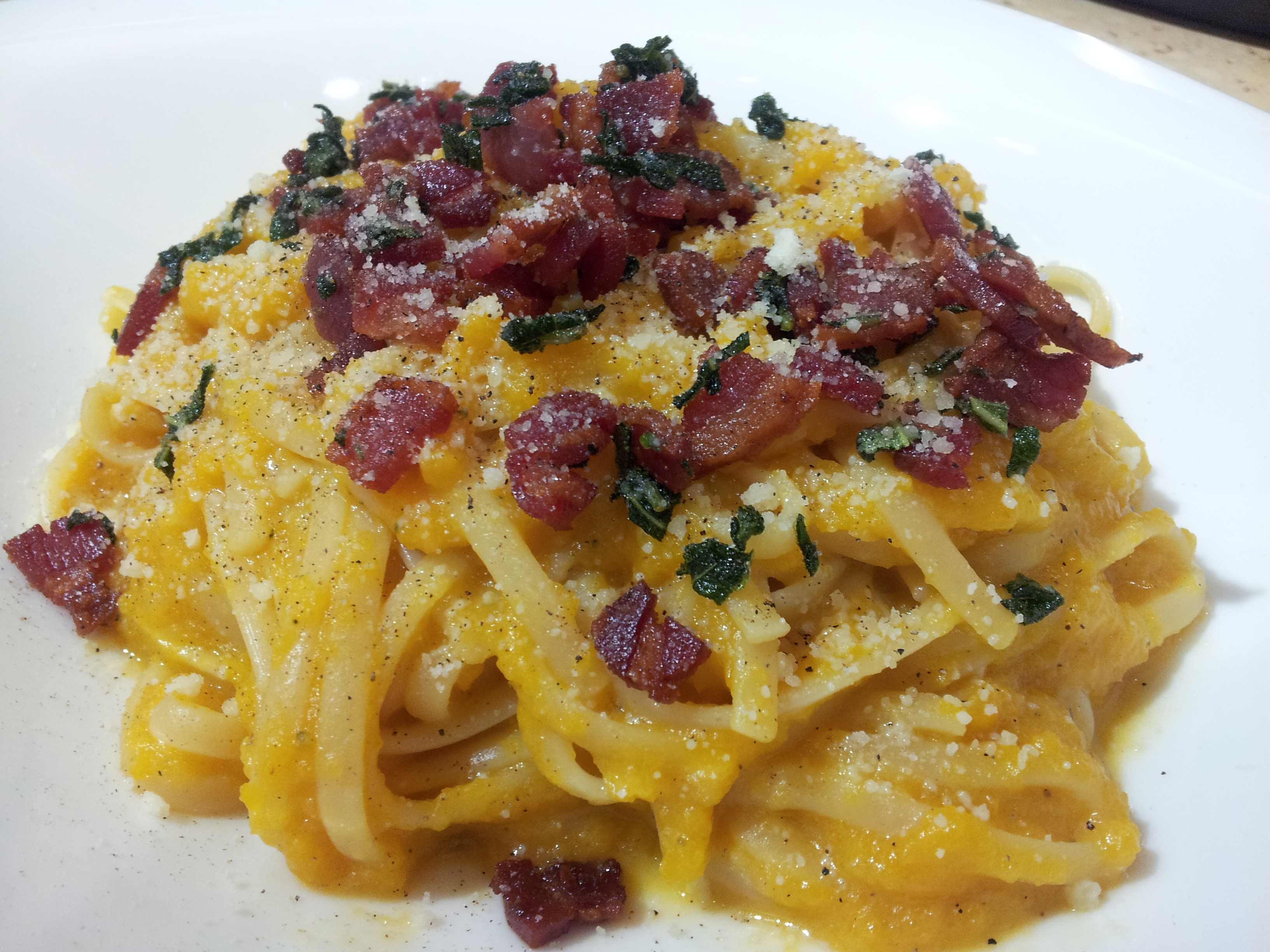 I absolutely love this recipe from bonappetit. What a healthy, delicious and clever twist on a classic pasta dish! This 'carbonara' recipe is much lower in calories and fat than the traditional recipe because it does not have any heavy cream, eggs or butter. But don't fret – it does not lack in flavor either! The sauce has a natural creaminess from using pureed butternut squash – so clever, right?! Obviously, nothing can ever replace the taste of heavy cream and butter, but this squash substitute will certainly satisfy your taste buds. I made this dish for Michael, a carbonara connoisseur ;-), and he loved it. The crispy pancetta and light sprinkle of Parmesan go a longgggg way!
Recipe
Yield: 2 servings
INGREDIENTS:
1 tbsp. olive oil
2 oz. pancetta, chopped
1 tbsp. fresh sage, finely chopped
1 package pre-cut butternut squash*, about 1 lb.
1 small onion, chopped
2 garlic cloves, chopped or minced
kosher salt and freshly ground black pepper
1 cup low-sodium chicken broth
1/2 lb. linguine (or your favorite pasta)
2 tbsp. freshly grated Parmesan cheese, plus more for serving
*You can also use kabocha squash.
DIRECTIONS:
1. Heat oil in a large skillet over medium-high heat. Add pancetta and reduce heat to medium. Cook, while stirring occasionally, until crisp, about 10 minutes. Turn heat off and add sage; toss to coat. Using a slotted spoon, transfer pancetta and sage to a small bowl; set aside.
2. To the same skillet over medium heat, add squash, onion and garlic. Season with salt and pepper and cook, stirring occasionally, for about 8 minutes. Add broth and turn heat up to high. Once it comes to a boil, reduce heat and simmer until squash is soft and liquid reduced by half, about 15 to 20 minutes. Let cool slightly, then puree in a blender until smooth. Season with salt and pepper and pour back into skillet.
3. Meanwhile, cook pasta in a large pot of boiling salted water until al dente. Drain, reserving 1 cup of pasta cooking liquid.
4. Combine pasta, squash puree, 1/4 cup pasta cooking liquid in skillet and cook over medium heat, tossing and adding more pasta cooking liquid as needed, until sauce evenly coats pasta, about 2 minutes. Mix in Parmesan and season with more salt and pepper as needed. Serve pasta topped with reserved pancetta and sage.