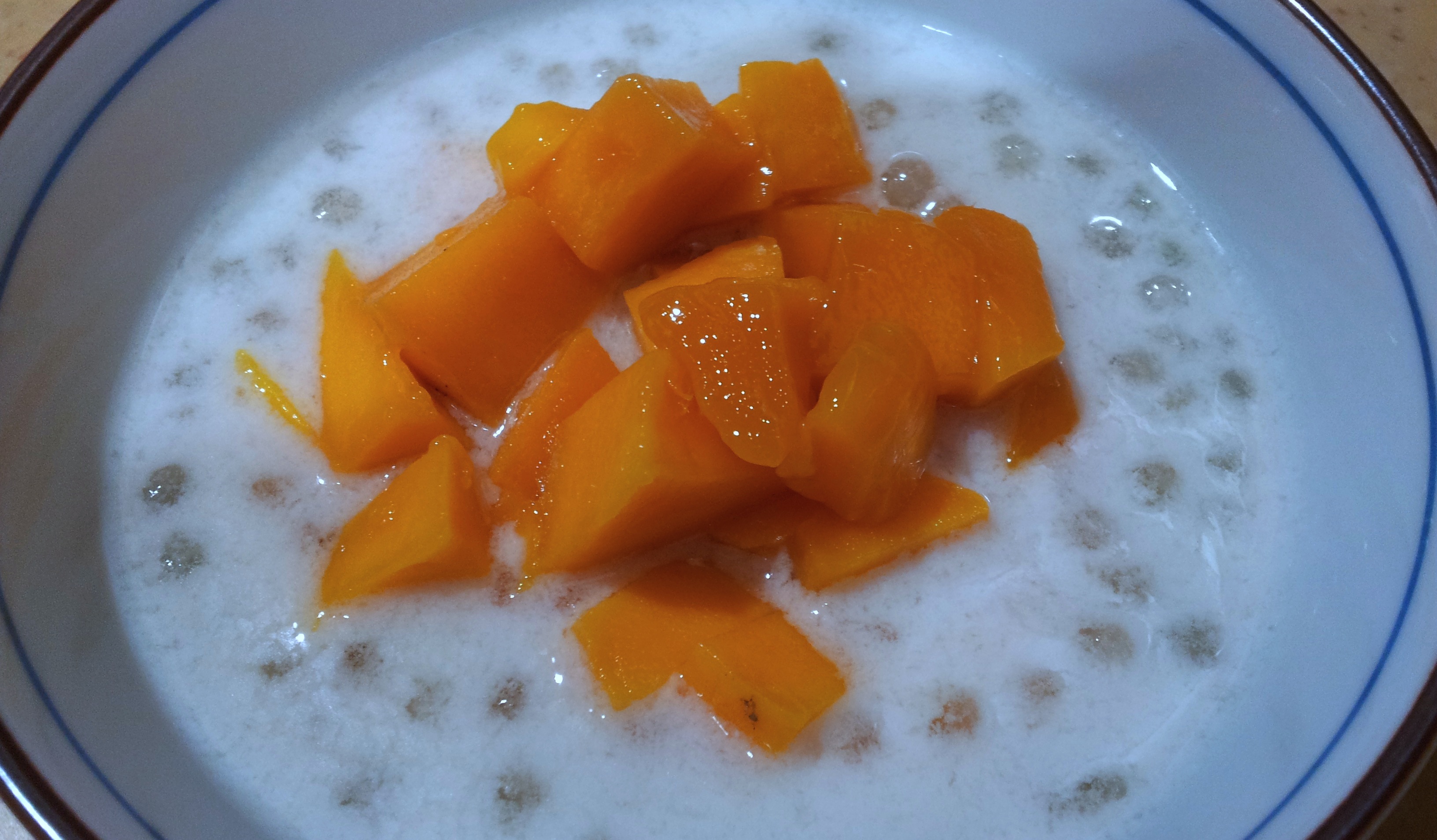 I LOVE a good mango sago. Michael and I tried our very first version of this 'oh-so-yummy' dessert in 2006 while visiting friends in Hong Kong. They were selling this stuff everywhere! We were addicted ever since. Sadly, it's not as readily available in New York City, unless you go to Chinatown or Flushing. A few Chinese dessert places have been popping up elsewhere around Manhattan, but nothing like a Dunkin Donuts on every corner.
I decided to make my own version of mango sago yesterday because mangoes were on sale in Chinatown. 3 for $1. It doesn't get any better than that folks. I think my version comes pretty darn close to that sold in stores – nice coconut flavor, natural sweetness from the mangoes and overall so refreshing. If you like mango sago, definitely give my recipe a try! It is so quick and easy to make.

Recipe
Yield: 2 medium or 4 small servings
INGREDIENTS:
2 tbsp. tapioca pearls
1 1/4 cup water, divided
7 oz. coconut milk*
1/4 cup granulated sugar
1/4 tsp. salt
1 large or 2 small ripe mangoes
*Coconut milk is usually sold in 14 ounce cans. You can save the remaining coconut milk by freezing in an airtight, plastic container.
DIRECTIONS:
1. In a small bowl, soak tapioca pearls with 1/4 cup water for 10 minutes.
2. Combine 1 cup water, coconut milk, sugar and salt in a small pot. Bring to a boil. Reduce heat to medium and simmer for a few more minutes. Add tapioca pearls and cook for another 2 to 3 minutes, while stirring, until they become clear in color. Turn off heat and let cool. Mixture will thicken slightly as it cools. Serve at room temperature or cover and refrigerate to serve cold.
3. Meanwhile, remove skin from mangoes and cut into small pieces. Spoon coconut mixture into a bowl and top with mangoes. Enjoy!