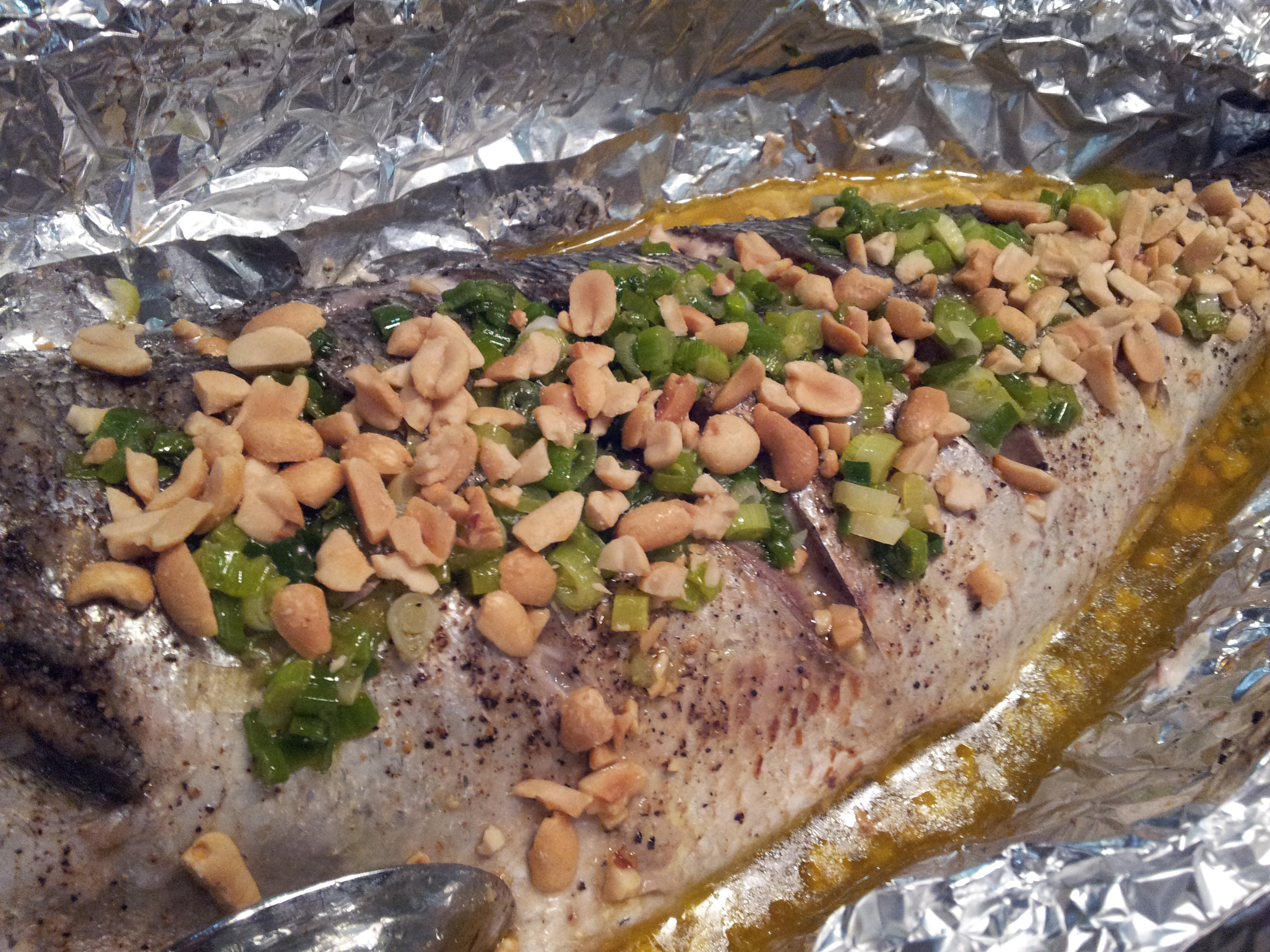 Those who are familiar with Vietnamese cuisine understand that it's all about freshness and different flavors coming together perfectly. Cá nướng cuốn is no exception to the rule. Cá nướng means 'fish grilled or roasted' and cuốn means 'roll.' Using a fish, such as Bluefish, that has a lot of flavorful, white meat with a minimal amount of bones is very important; however, what makes this dish so fresh and bursting with flavor is the combination of herbs and vegetables in the roll. Fresh mint, Thai basil, cilantro, lettuce and cucumber are the usual suspects in any Vietnamese roll. The fish sauce, though, takes everything to a whole new level!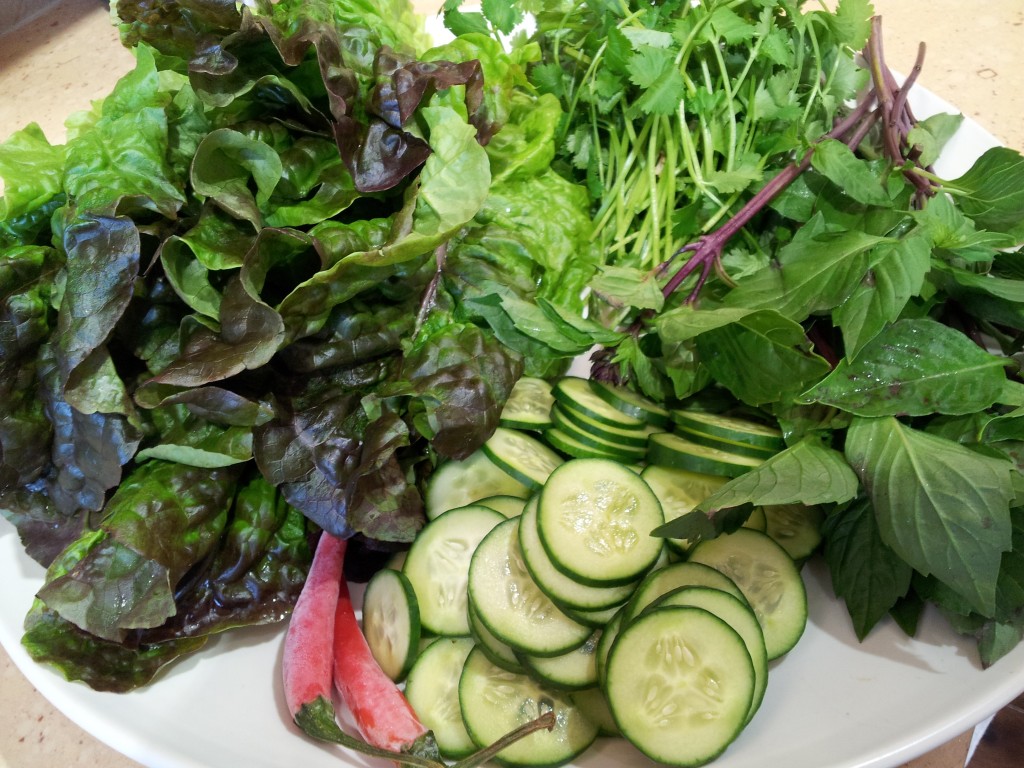 Vietnamese people love to socialize and have a good time over a meal. Hence, dishes like this are typically eaten for lunch or dinner in a group setting. Growing up, I watched my grandma, mom, aunts and uncles make this dish many times for our family gatherings. Using their original recipe, I made a few adjustments based on available ingredients and my own preference. I hope you enjoy this dish with your loved ones too :). 
Recipe
Yield: 3 to 4 servings
INGREDIENTS FOR FISH ROLLS:
1 whole bluefish (about 5 to 6 lbs)*
coarse salt and freshly ground black pepper
1/2 pack rice vermicelli noodles
2 heads of red or green leaf lettuce
1 bunch fresh mint
1 bunch fresh Thai basil
1 bunch fresh cilantro
1 large English (seedless) cucumber, thinly sliced
6 tbsp. oil (vegetable or canola)
3 scallions, chopped
1/2 cup crushed peanuts
1 pack medium size rice paper sheets
*Save time by having the fish butcher clean the fish for you. Traditionally, the head is left on for this dish, but it's really up to you.
INGREDIENTS FOR FISH SAUCE: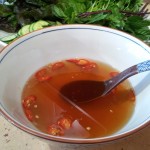 1/2 cup granulated sugar
1/2 cup fish sauce
1 cup warm water
juice of 1 to 2 limes
Sambal Oelek chili sauce or fresh Thai chili peppers
DIRECTIONS:
1. Preheat oven to 400 degrees F. Rinse fish and pat dry with a paper towel. Cut a few diagonal lines along the body of the fish, about an inch apart, on both sides. Season both sides and the inside of the fish liberally with salt and pepper; make sure you get the salt and pepper into the diagonal lines you cut as well. Place fish onto a large piece of foil. Gently pull both sides of the foil up and fold over to completely cover the fish. Wrap the ends of the foil to form a spiral shape and seal the packet closed. Essentially, you want to create a steaming effect with the foil. (Use several layers of foil if necessary.) Place onto a large baking sheet and bake until fish is fully cooked, about 50 minutes.
2. Meanwhile, cook vermicelli noodles according to package instructions. Pour into a colander. Rinse with water and let drain for about 15 minutes. Place onto a plate or bowl.
3. Wash and dry the lettuce and herbs. Arrange on a large platter with the cucumber slices.
4. Heat oil in a small pan over medium heat. Add scallions and cook for another 2 to 3 minutes. Be careful not to brown or burn the scallions, you simply want them softened and coated with oil. Set aside.
5. For the fish sauce, combine the first three ingredients in a large bowl. Stir until sugar is completed melted. Then add the lime juice and chili; serve in small individual dipping bowls.
6. Once fish is cooked, carefully unwrap the foil. Top with the scallion oil mixture and peanuts.
7. Place everything onto the dining table and serve family style. Have a large bowl of hot water on the table as well for dipping the rice paper sheets. (I highly recommend dipping the sheets as you eat rather than ahead of time.) Place a little bit of lettuce, herbs, cucumber, and fish onto your softened rice paper. Roll everything up and dip in the fish sauce. For detailed directions and photos on my rolling technique, please refer to my Vietnamese Summer Roll recipe. Enjoy!