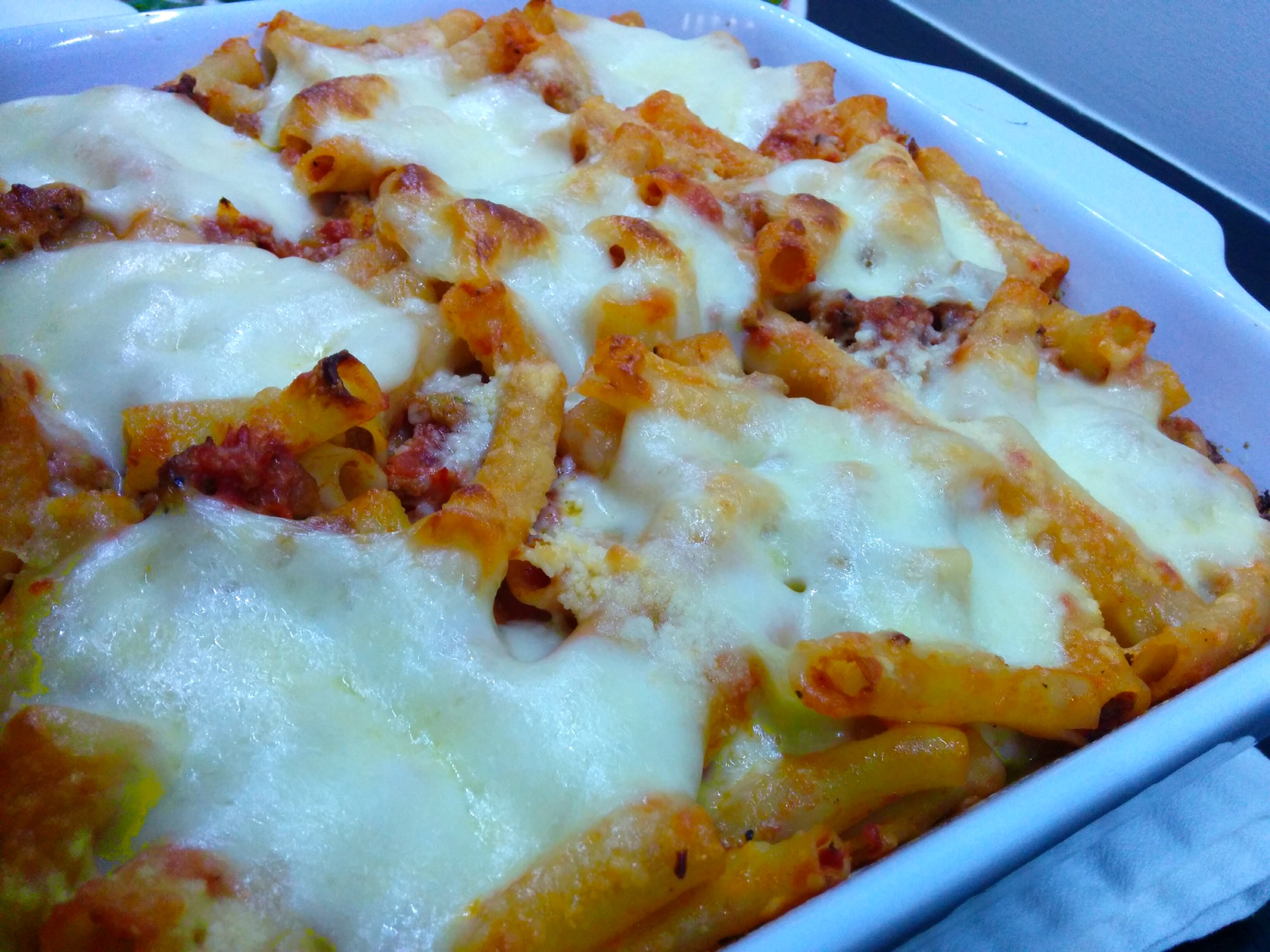 Who doesn't love baked ziti? Pasta, fresh tomato sauce and mozzarella cheese bubbling on top…yum! I found this amazing recipe on the Food Network and made a few tweaks of my own. What I love about this dish is that it's perfect for a large group because everything is baked in one dish AND you can prepare it ahead of time. I recently made this for a dinner party and the ability to prepare ahead of time was a definite plus. I made the sauce the day beforehand and stored in the refrigerator. I boiled the pasta and mixed with the sauce and cheese a few hours before serving.  Then transferred everything to a baking dish and covered with foil. All I had to do was pop the dish into the oven 30 minutes before serving. I ended up having more time to mingle with my guests and have a few cocktails myself. 😉
Some recipes call for a store-bought marinara sauce; however, I truly believe that a homemade sauce makes a significance difference in the overall taste. It's extremely easy and quick to make – under 20 minutes! I also highly recommend using San Marzano tomatoes because they are somehow naturally sweeter. The sauce always turns out richer and more flavorful, in my opinion. I hope you give this recipe a try for your next dinner party. I promise you and your guests will not be disappointed! You can also make this for a smaller group by simply halving the recipe.
Recipe
Yield: 8 to 10 servings
INGREDIENTS:
1 lb. ziti pasta
Salt
Marinara sauce, recipe follows
1 lb. fresh mozzarella*, half cut into 1/2-inch cubes and half thinly sliced
1 cup freshly grated Parmesan, divided
Freshly ground black pepper
Pinch red pepper flakes (optional)
*If available at your grocery store, use a mozzarella log (it's simply in the shape of a log rather than a ball). It makes slicing and cutting much easier.
DIRECTIONS:
1. Preheat oven to 400 degrees F.
2. Bring a large pot of salted water to a boil. Cook the pasta for 6 minutes, just shy of al dente. Remember, you will continue cooking the pasta in the oven. Drain but do not rinse.
3. Toss the pasta with the marinara sauce, cubed mozzarella cheese, half the Parmesan, black pepper and red pepper flakes.
4. Transfer to an oiled 9″ x 13″ baking dish. Place the sliced mozzarella cheese on top and sprinkle with remaining Parmesan. Bake until lightly browned and cheese is melted, about 25-30 minutes. If it starts to brown too quickly, loosely cover with foil. Serve immediately.
MARINARA SAUCE:
2 tbsp. extra virgin olive oil
1.25 lb. spicy or sweet Italian sausages*, casing removed and crumbled
1 small yellow onion, diced
3 cloves garlic, chopped
1 can (28 oz) San Marzano whole, peeled tomatoes, roughly chopped or crushed
2 sprigs fresh thyme
2 sprigs fresh basil
2 tsp. kosher salt
Freshly ground black pepper
*Some stores sell Italian sausage meat without the casing. This will save you some time! I also used half spicy and half sweet sausage.
Heat oil in a medium saucepan over medium-high heat. Break up the sausage meat and cook until it starts to brown, about 4 minutes. Add the onion and garlic, stirring, until lightly browned, about 3 to 4 minutes. Add the tomatoes and herb sprigs and bring to a boil. Lower the heat and simmer, covered, for 10 minutes.
Remove and discard the herb sprigs. Stir in the salt and pepper. Use now or store covered in the refrigerator for up to 3 days, or freeze for up to 2 months.