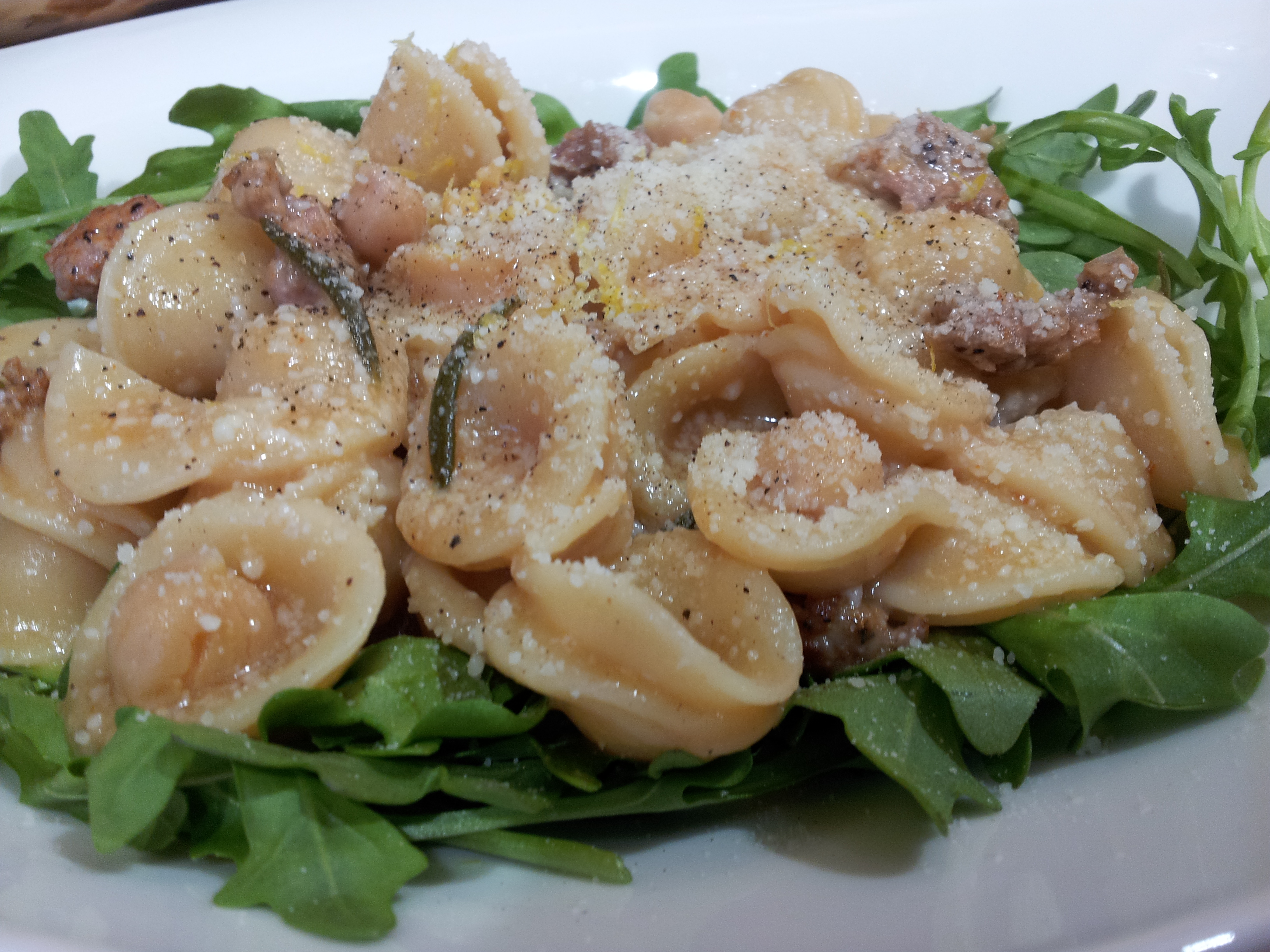 Nothing is easier or more convenient than making a one-pan dish for dinner! I found this recipe last year in a Martha Stewart Living Magazine. By changing a few ingredients to my personal liking, I made a delicious and easy pasta dish that was ready in 30 minutes. Best of all, I only had one pan to clean afterwards!
I love this pasta dish because it's light, healthy and bright with the fresh arugula and lemon zest. The chickpeas add a nice nutty flavor and give you that protein boost to keep you full longer. Although this is a vegetarian dish, you could always add your favorite meat, such as Italian sausage or ground beef. Sliced mushrooms also add a great umami flavor to the dish! The original recipe includes olives which would give a salty flavor; however, I chose to omit them because I'm not a huge fan of olives.
Be sure to give this recipe a try for your next lunch or dinner!
Recipe
Yield: 2 to 4 servings
INGREDIENTS:
12 oz. orecchiette
1 can chickpeas, rinsed and drained
2 tbsp. tomato paste
3 cloves garlic, thinly sliced
1 sprig fresh rosemary
4 cups low-sodium vegetable or chicken broth
1 cup water
3 tbsp. extra-virgin olive oil, plus more for serving
pinch red pepper flakes (more if you like it spicy)
kosher salt and freshly ground pepper
1/2 cup freshly grated Parmesan cheese
2 cups baby arugula*
*You could use baby spinach as well.
DIRECTIONS:
1. In a large pot or skillet, combine the pasta, chickpeas, tomato paste, garlic, rosemary, red pepper flakes, broth and water. Season with salt and black pepper.
2. Bring to a boil. Reduce heat to medium-high and cook, while stirring occasionally, until pasta is al dente and liquid is reduced to a sauce that coats pasta, about 12 to 15 minutes.
3. Remove pot from heat. Discard rosemary sprig and stir in cheese. Add more water, a few tablespoons at a time, just to thin sauce if necessary. Taste and add more salt if needed.
4. Divide arugula among bowls or plates and top with pasta. Drizzle a little olive oil and sprinkle with more cheese. Serve immediately.