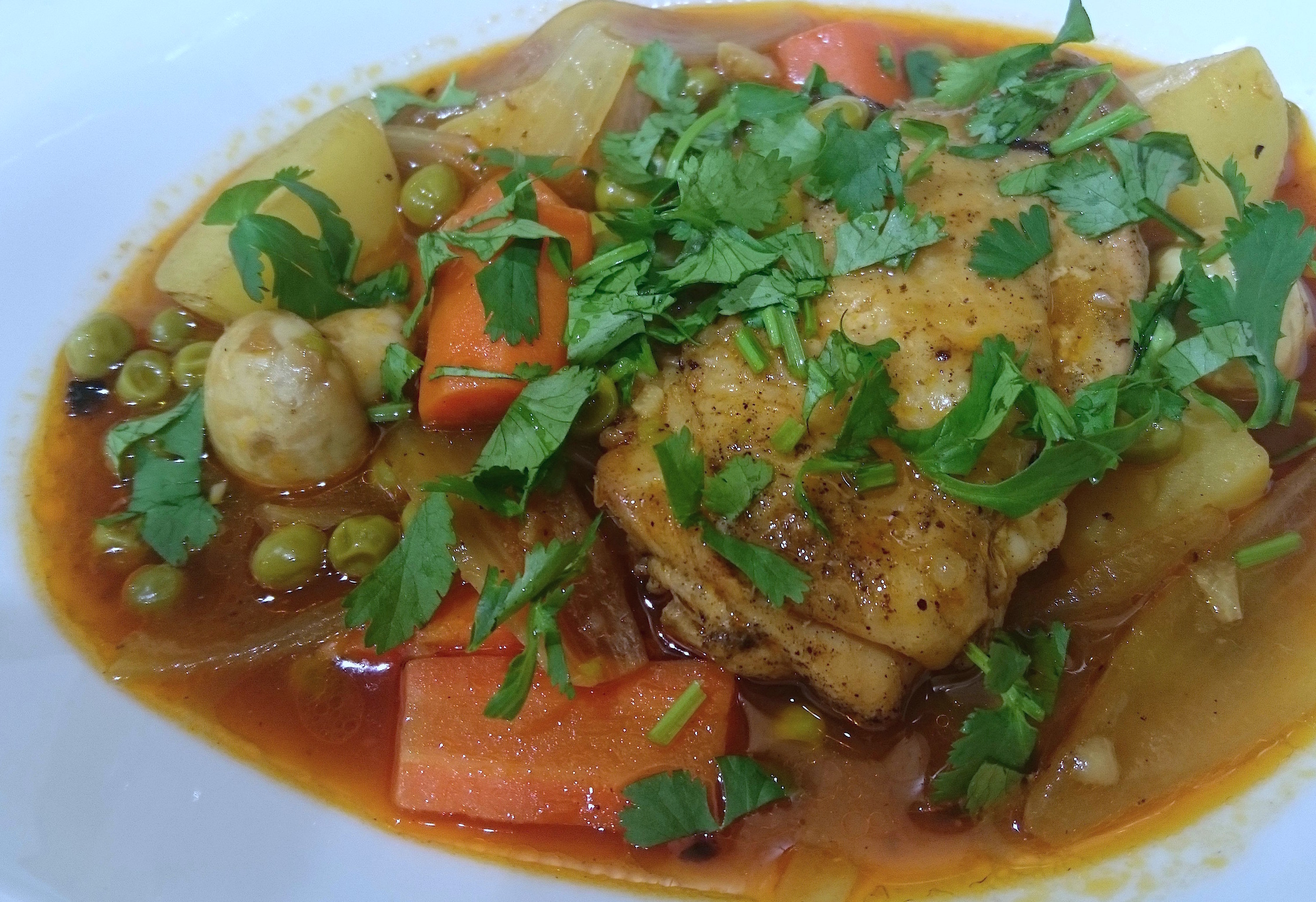 Although nothing about Vietnamese Chicken Ragu screams Vietnamese, it remains one of our most beloved dishes. Clearly, it is a culinary delight left behind by the French from the old colonial days. Perfect on a cold winter's day, or any day for that matter, this stew-like dish is traditionally eaten with freshly baked, crusty French bread. I simply love dipping the bread into the savory broth!
After years of watching my mother and grandmother make this dish, I have perfected the recipe by combining their techniques with a few of my own :-). I prefer to use a combination of chicken drumsticks and thighs because they are my favorite; however, you could use any combination of chicken parts you prefer. I hope you give this recipe a try soon!
Recipe
Yield: approximately 4 servings

INGREDIENTS:
4 chicken drumsticks
4 chicken thighs
5 garlic cloves, finely chopped, separated
1 tsp. kosher salt
1 tsp. poultry seasoning
1/2 tsp. granulated sugar
1/2 tsp. black pepper
3 Tbsp. olive oil, separated
1 yellow onion, cut into wedges
4 carrots, peeled, halved lengthwise, and cut into 1-inch pieces
3 yukon potatoes, cut into 2-inch pieces
3 Tbsp. tomato paste
3 cups low sodium chicken broth
1 Tbsp. all-purpose flour
3 Tbsp. water
2 cups white button mushrooms, cleaned and halved if large
1 (15-oz) can green peas
chopped cilantro for garnishing
french bread for dipping
DIRECTIONS:
1. In a large bowl, combine the chicken, 3 chopped garlic cloves, salt, poultry seasoning, sugar and black pepper. Cover and marinate in the refrigerator for at least 20 minutes or overnight.
2. Heat 2 tablespoons oil in a large pot or Dutch oven over medium high heat. Add chicken, skin side down, and sear on each side for 5 minutes. Reduce heat to medium if chicken browns too quickly. Transfer chicken to a plate and set aside. **(If your pot tends to stick or burn easily, sear the chicken in a separate pan.)
3. Heat remaining 1 tablespoon oil in the same large pot over medium heat. Add onion, carrots, potatoes and remaining 2 chopped garlic cloves. Cook for 5 minutes while tossing occasionally. Stir in tomato paste and chicken broth. Bring to a boil over high heat. Add the chicken back to the pot. Reduce heat to medium low and cover. Cook until you can pierce the potatoes with a fork, approximately 25 minutes.
4. In a small bowl, mix together the flour and water. Pour into the pot and gently stir. Add the mushrooms and peas. Cover and cook for another 10 minutes. Taste broth and season with more salt and pepper if needed. Garnish with chopped cilantro and serve with french bread. Enjoy!