Michael and I decided to go on a post-Thanksgiving beach vacation this year. The Caribbean has many islands to choose from, but we decided on St. Martin because of its French influence, secluded hotels and availability of nonstop flights from New York. Although the Dutch side of the island caters more towards tourists (i.e. number of casinos, clubs, shops), we stayed on the French side because it's much more secluded and the restaurants and shops seem to be a touch more upscale. In other words, the Dutch side simply reminded me too much of college students on spring break. Get my drift?!
The resort we stayed at was perfect. We had our own private beach and a beautiful infinity pool. Because we traveled during the low season, we practically had the entire resort to ourselves! Their beachfront restaurant, C Le Restaurant, couldn't be more romantic. Imagine yourself sipping a glass of crisp white wine while taking in the beautiful sunset. Ahhhh, I wish I were there again :).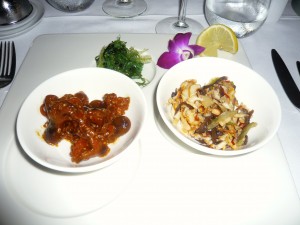 The Japanese inspired octopus and squid salad at C Le Restaurant was so good! They cooked the octopus and squid perfectly. The seaweed salad was such a nice complement because it added a crunchy texture to the dish. Most importantly, the dressings were the perfect balance of sweet, spicy and tart flavors. Everything you would typically find in an Asian dish ;).
A trip to St. Martin wouldn't be complete without a visit to Grand Case, the Gourmet Capital of the Caribbean. We dined in Grand Case a few nights, but our ultimate favorite restaurant was Il Nettuno. OMG, hands down, they have the best pasta in town. I just might go there and say they are better than any Italian restaurant I've eaten at in New York. One thing is for sure, their view of the ocean and sunset is better than any restaurant in New York! All of their pasta is homemade, and their sauces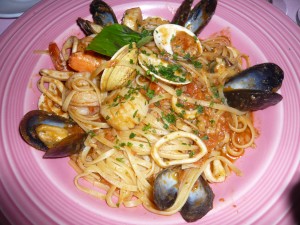 are simply amazing. Even their basic marinara sauce was full of robust flavors – you could really taste the fresh tomatoes, herbs and spices. I had their Tagliatelle "Al Dente" fresca ai frutti di mare. They loaded the dish with fresh scallops, mussels, shrimp and squid. The sauce tasted like it had been simmering for hours, with just the right amount of spiciness. Continue reading →